Department Store Jewelry Lots
Here is your exclusive chance to buy brand-name Jewelry! This high-quality jewelry is in style and was being sold in department stores like Macy's, Nordstrom's, JC Penny's, and more. All of this Jewelry is brand new, high-quality, case-packed, and ready for reselling. It is in limited supply, so order now while supplies last.

Brands included:
Mia

Carisma

Bloom

Body Rhythm

A'GACI

and more!
Each Jewelry Variety lot is packed with a mix of necklaces, bracelets, earrings, and rings. Most items are packed in packs of 12 and divided across lots to give you a diverse mix of jewelry in each lot. Due to the high volume of inventory, we cannot list the quantity and description of each particular item you will receive. We can say that the lots will contain a high concentration of Mia jewelry followed by a combination of the other brands.

This lot includes many new products direct from manufacturers' cases that have never been handled by customers or placed on store shelves. For our shipping purposes, the products are often not shipped in the original manufacturer cases. Although new products, there is still the possibility of some warehouse damage.

Images are for example purposes; received products may vary.
PLEASE NOTE: Due to the nature of the liquidation business, we cannot accept returns. As our lots are composed of liquidation goods, some items you receive may be stressed or damaged. No refunds, however, we guarantee 95% of each lot's units are undamaged and unexpired. If not, contact us and we'll make it right.

We strive to be very generous with our boxes to assure our customers are happy. We have many satisfied customers. You will not be disappointed.
Jewelry Lots
WHOLESALE DISTRIBUTOR PRICING:
120 Items: $2.50 Each = $300 Total

250 Items: $2.36 Each = $590 Total

500 Items: $1.98 Each = $990 Total

1000 Items: $1.49 Each = $1,490 Total
SHIPPING INCLUDED IN PRICE

Click on the link below if you need to give us more instructions regarding this order.
 Earrings & Assorted Jewelry
Cubic Zirconia Micro Pave
Total of 288 Pieces of Jewelry
Includes Light Up Display
$535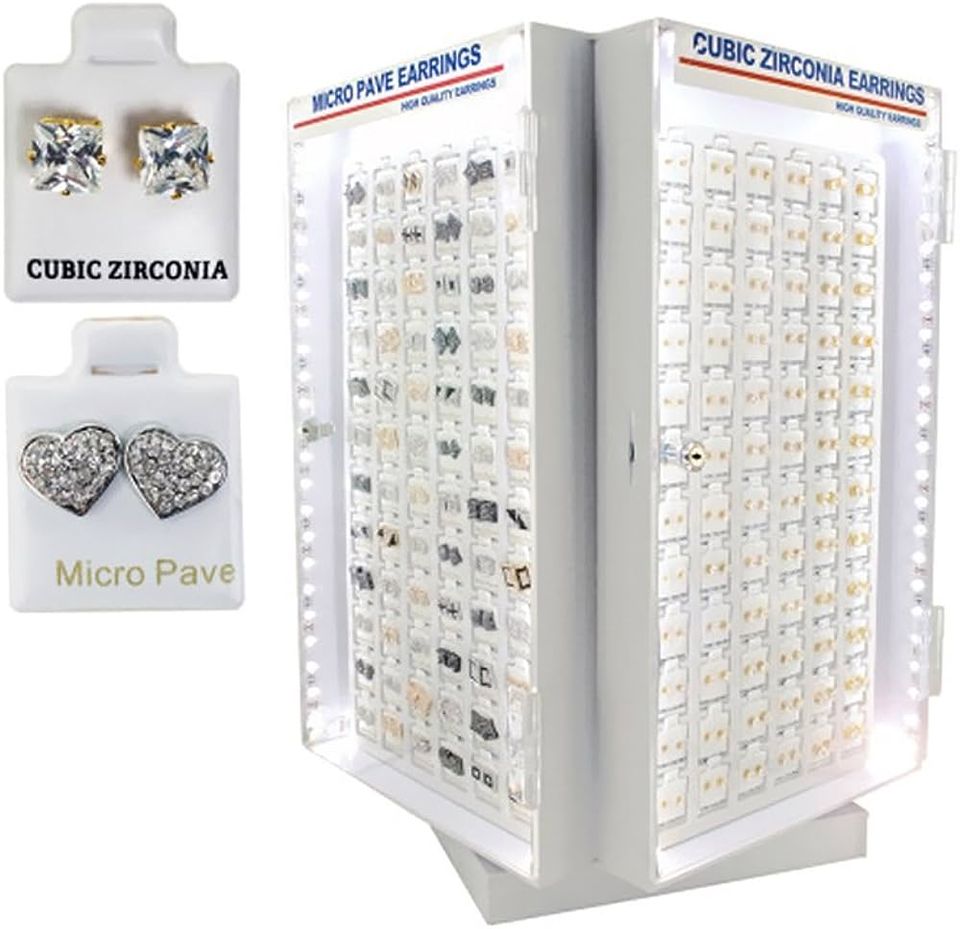 This show stopping display is sure to grab your customer's attention! Display contains 288 pairs of cubic zirconia and micro pave earrings and assorted jewelry. Display is made up of 4 lit panels, with each panel featuring an assortment of earring styles.

Includes: clear studs, black studs, micro pave squares, micro pave hearts, micro pave circles and multi-colored shapes.

Earring bases include both silver and gold-toned. Each pair of earrings is carefully packed on a cushioned card and placed inside the display. This display lights up catching the light of earrings making this the perfect centerpiece for store counters. Every display comes with a lock and key to keep earrings safe.

The mesmerizing light-up display is designed to showcase these precious items in the most captivating way. Crafted with precision, the display features gentle LED lighting that illuminates each piece of jewelry, casting a soft, enchanting glow that highlights the intricate details and brilliance of each item.

This secure display case is a protective enclosure designed to safeguard the items while allowing them to be viewed by the public.

Click on the link below if you need to give us more instructions regarding this order.